06.07.1987 - 27.09.1987
Edo Kovačević: Old roofs of Zagreb
Exhibition concept: Nada Premerl, Radovan Ivančević
Exhibition design: Edo Kovačević
Poster design: Edo Kovačević


For towns without their poets are no towns. (A. G. Matoš)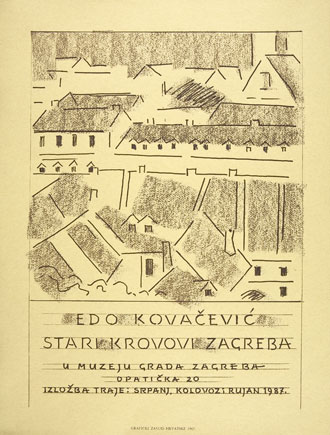 The City Museum of Zagreb owns a collection of old panoramas of Zagreb and is sistematically completing it with works of contemporary artists who choose their town as a motif of their paintings.

With this exhibition we are starting introducing artists who have distinguished themselves as painters of Zagreb panoramas and we believe that towns are no towns only without their poets but also without their painters.

Edo Kovačević has for more than five decades been searching for and finding specific beauties of Zagreb in the vivacity of roof surfaces, in the riches and harmony of colours, unique and so much characteristic for this sensitive painter who, I dare say, seems to be most intimately related to Zagreb of all Croatian painters.

We are glad that this exhibition is opened in honour of the 80th birthday of Edo Kovačević, in the City Museum of Zagreb which, at the same time, celebrates the 80th anniversary of its existence.

Nada Premerl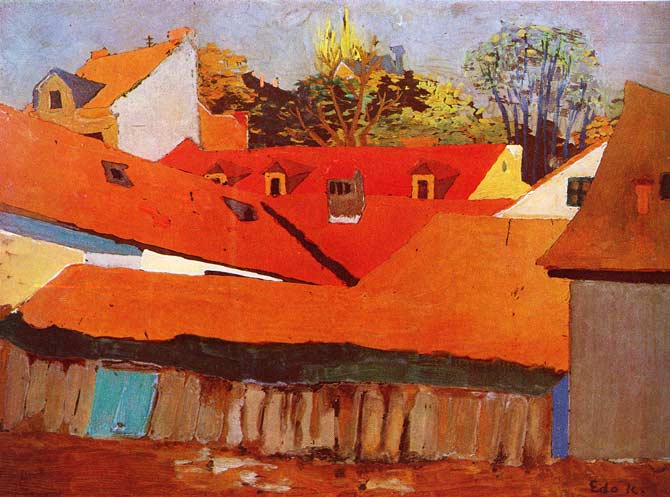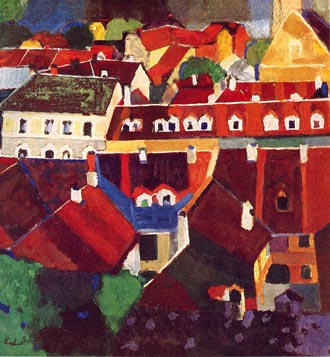 We have always known that Edo Kovačević is a painter of still lifes and landscapes. But it is only now that we can see, thematically gathered, his Zagreb panoramas, those views from a hidden place, views of the backsides of houses and small streets, lateral vistas of houses and views from above, over the roofs as an integral urban vision. Edo's Zagreb.

Most frequently there is deserted space, a setting without people like a renaissance painting of the "ideal town". This is why we quite easily identify with the painter, we ourselves stand and look from the same spot and in the same way as he did. His vision and his visual reconstruction of the town in the course of half a century – the exhibition shows thirty pictures made in fourty years, from 1934 to 1977 – is even more significant as Zagreb is shown in its making, its duration and its disappearance. He started painting Zagreb when everything close to the very core of the town had the quality of a suburb: the outskirts of that time, districts not built over, have, for a long time already, become an integral part. He experienced, and we did with him, that the reality of the closest environment of the town centre which he had recorded has essentially changed and that a lot of it has been lost now. Not only are the paintings of Edo Kovačević evidence of the contemporary art sensitivity, they have also become a document about a Zagreb that used to be. He approached the modest, peripheral reality of the town in a subtle artistic manner, he expressed still undeveloped urban qualities with a highly urbanised sensitivity of a modern European artist. In return, his tapestry of the winding Duga ulica which leads from the downtown area to the Upper Town, was proposed for the Museum in Lausanne where Kovačević was meant to be exhibited along with Picasso, Braque, Lurçat and others who reestablished contemporary tapestry. But, in love with his work, the painter prefered it to remain in the town in which and for which it was created.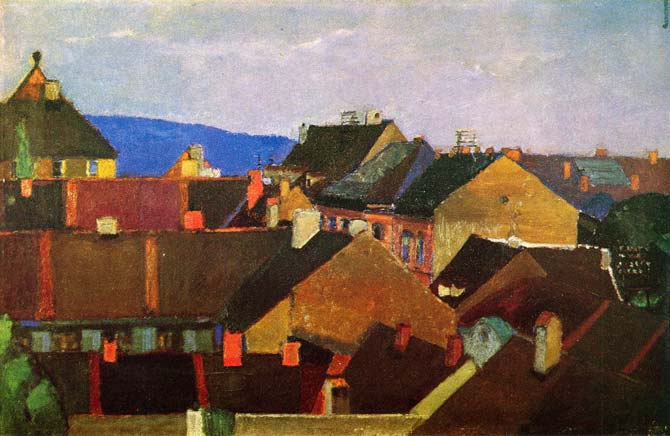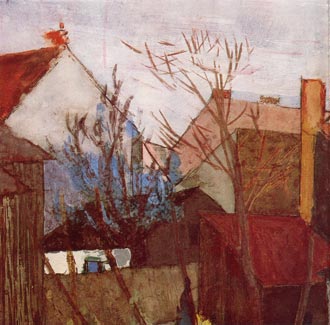 The inclination to solitary life, the quiet contemplation and modesty in the painter's existence have equally been expressed in his work. In his still lifes we in vain look for elegant, raised flowers: we find only meadow vagabonds and wood tenants. Neither does his world of architecture record any baroque palaces, any historically representative buildings – merely low single-story houses and houses of modest dwelling. But, where in reality there is unpretentious design, Edo discovers and, as by an impulse, creates a real artistic splendour. This is Zagreb as seen by a quiet and fascinated lover who is living with his town and who has profound feeling for it. Edo's paintings represent a whole generation of intellectuals who have grown close to the world culture, who have known the "Paris" milieu and art. Has not Edo Kovačević, although a Croatian painter, managed to portray as suggestively Paris, avoiding the Gothic and Baroque architecture and choosing only those buildings, the very face which the city on the Seine owns to the Renaissance, the epoch of Henry IV: Louvre and Pont Neuf? Carrying within him Zagreb standards and measure he remained in his contact with Paris a painter on the level of writer Matoš's international culture, with admiration but also with a critical distance and refinement.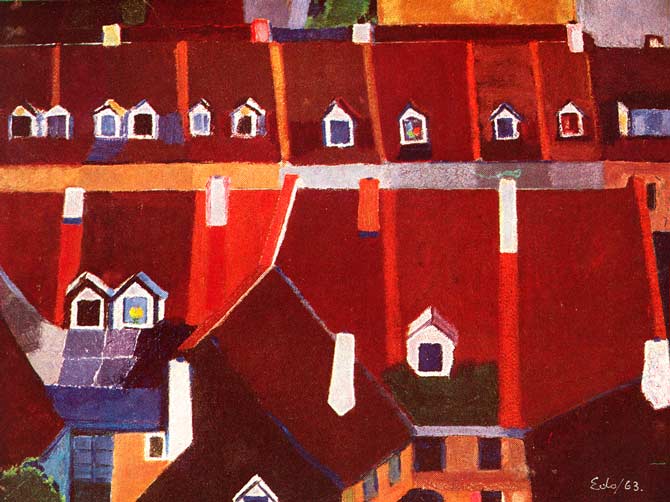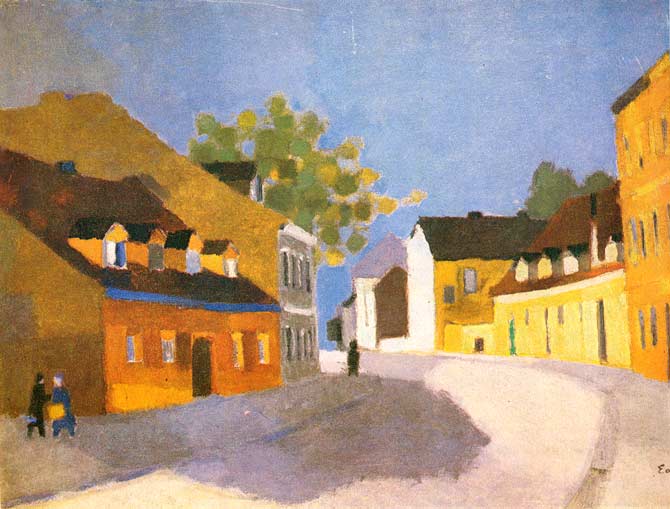 Edo's pictures of Zagreb are portray studies of a past town intended for the future. Edo's humane, refined and sensitive painting will bear witness to us and to our town and we can be proud that it will represent us in future because we are thus represented without doubt through our highest possibilities and intensity. This is why we can give this clean and clear art as legacy with confidence to future generations: whatever our words were not able to say, Edo's painting will express: for, as much as words fly away (verba volant), works of art do never lose their splendour: picta manent!

Radovan Ivančević


Pictures from the exhibition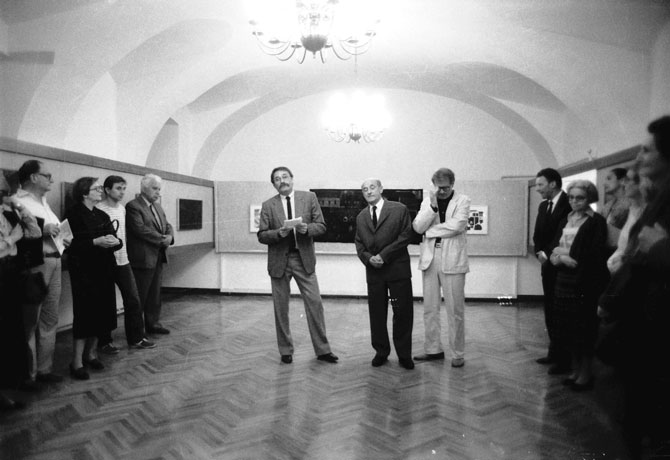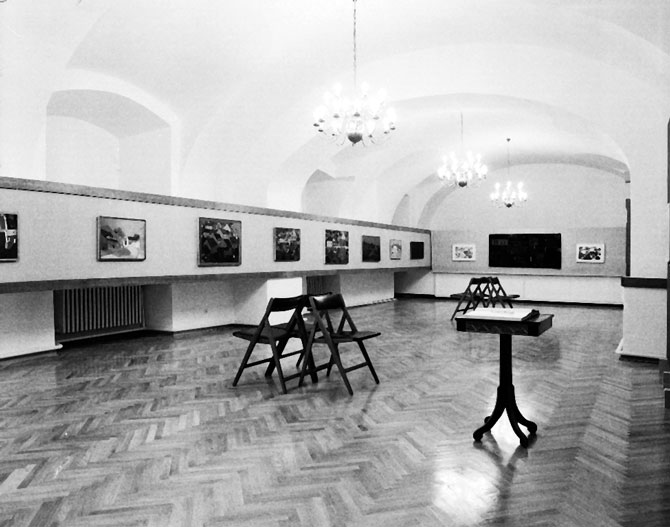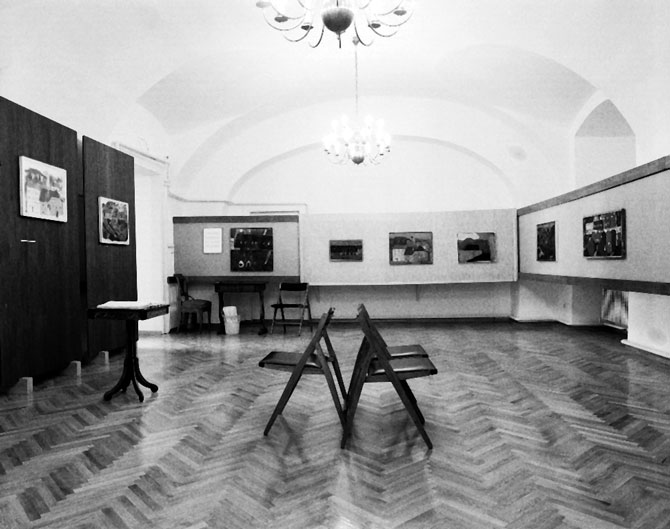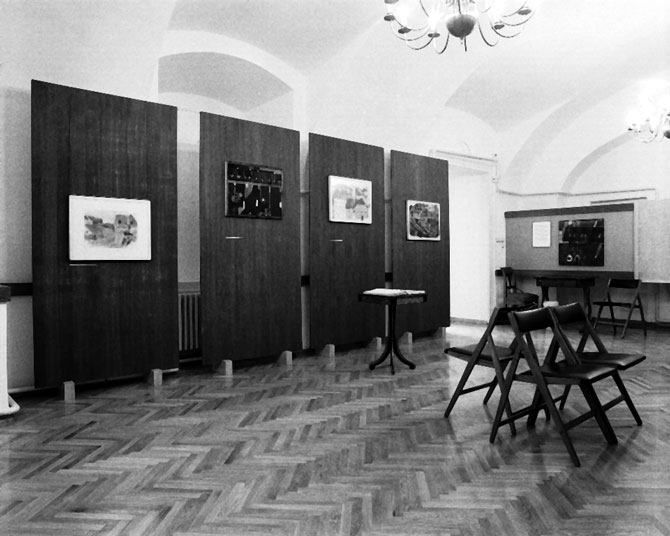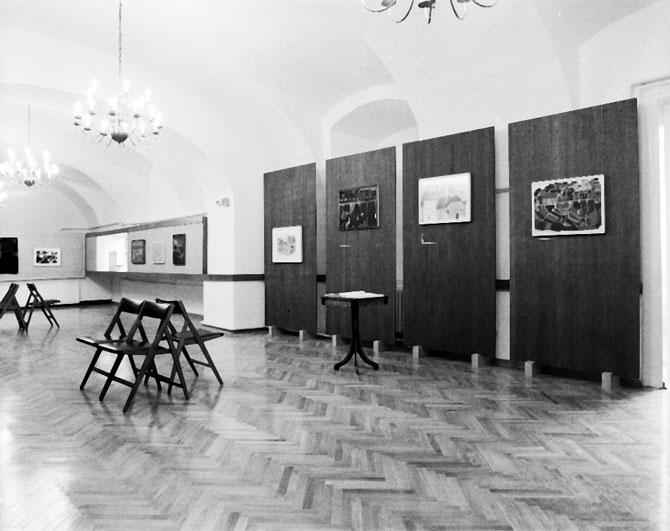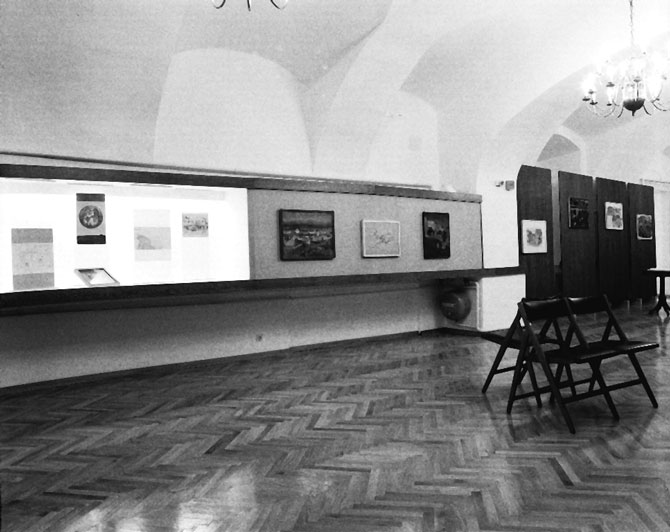 photo Josip Vranić, ZCM



Exhibition catalogue

Ivančević, Radovan; Nada Premerl. Edo Kovačević: Old roofs of Zagreb.
Zagreb : Zagreb City Museum, 1987